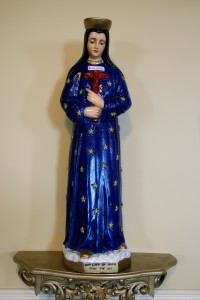 Our Lady of Good Hope Parish was founded by the Oblates of Mary Immaculate (OMI) in 1860. Father Leon Fouquet, OMI choose Fort Hope as the site for one of the first Catholic Churches in the Province of British Columbia. Father Charles Grandidier, OMI and Brother Gaspar Janin, OMI built a small Chapel on the corner of Park Street and Water Avenue in 1860. After the Chapel collapsed, another Church was built in 1913, and the Church was rebuilt a block away in 1948. The Parish Hall was built in 1981. The inside of the Church was renovated in 2006 – 2007 and 2013 – 2015.
Visiting Oblates of Mary Immaculate served the Parish in the early years from 1860 to 1913 and were resident Pastors of the Parish from 1963 to 1999. In 1999 the Parish was returned to the Archdiocese of Vancouver.  The Sisters of Charity of the Immaculate Conception served in the parish from 1972 to 1998.
The Parish has supported missions to outlying areas and Reserves: Peters, Shxwowhamel, Union Bar, Chawathil, Ruby Creek, Skawahlook, Yale, Spuzzum, Boston Bar, Boothroyd, Ross Road, North Bend, Anderson Creek and Manning Park.